Solar panels for Hyde Park Corner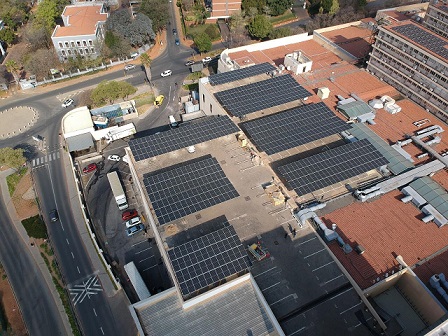 The carbon footprint of Hyde Park Corner has decreased with the installation of a 384 kWp solar PV system on the two office block roofs and carports on the North Eastern parking deck.
The system, rolled out by Solareff, consists of 900 430W half cut Mono Percium panels which are currently the most commercially efficient panels available. The panels will generate approximately 674 400kWh energy per annum translating into saving of approximately 701.4 tons in carbon emissions every year which equates to 5.38 % of the total annual energy requirements at Hyde Park being produced from renewable resources.
The mall's holding company is conscious of the business's environmental impact. Hyprop CEO, Morné Wilken comments, "As part of Hyprop's drive to continually minimise the impact on the environment, one of our key focus areas is to reduce the consumption of natural resources where possible. The installation of solar, a renewable energy source, is only part of our drive towards positive change in creating safe environments and spaces where people can connect and be part of a community. At completion, six of our nine malls will be making use of solar power."
Hyde Park Corner's General Manager, Jacqui McGeehan expands, "This roll-out of solar panels will also mitigate the risk of continuous, rising electricity costs for the company. The electrical power generated by the solar system is fed back into the centre grid and consumed in total."
Visit Hyde Park Corner on the corner of William Nicol Drive and Jan Smuts Avenue. For more information on enjoying a lifestyle that's made for you, visit the website.
About Hyprop's Solar Project Rollout
Hyprop is committed to corporate sustainability by taking into consideration its social, economic and environmental responsibilities, implementing ethical practices and good governance and understanding our impact on the natural environment.
We endeavour to concentrate our efforts to integrate sustainability considerations into every aspect of the business – initiatives which include improving recycling initiatives, reducing waste and managing assets to be more energy and water efficient and reducing carbon emissions in line with national targets. Hyprop is fully committed to sound sustainability principles while creating long-term economic value.
View the video here.  
Hyde Park Corner is currently operating under Level 3 restrictions.
Monday to Saturday: 9am – 6pm
Sundays and Public Holidays: 10am – 3pm