Iconic Balalaika Hotel receives an upgrade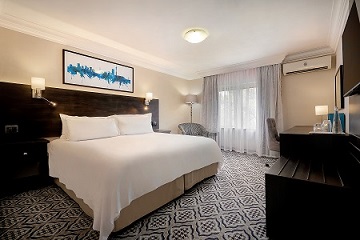 The Protea Hotel by Marriott® Johannesburg Balalaika Sandton has undergone a series of renovations, updating the upmarket Sandton venue's facilities and elevating its appeal to both business and leisure travellers in the City of Gold. 
Sandton, Gauteng's bustling business and entertainment hub, has retained a familiar fixture on its skyline since 1948, when the Balalaika Hotel was first established. The landmark's history, however, dates back to the days of the Old Wagon Road between Pretoria and Johannesburg,  where it served as an "outspan stop" for early travellers, who would park their wagons and let their oxen graze on the site.  
Now, the upscale Sandton hotel features two sections: the Balalaika and the Crown Court; each with its own lush, landscaped garden and sparkling swimming pool, where guests can relax, unwind and experience the timelessness and calm of a bygone era. With 330 guest rooms and suites, each room and suite is air-conditioned and tastefully furnished in a classic, comfortable style.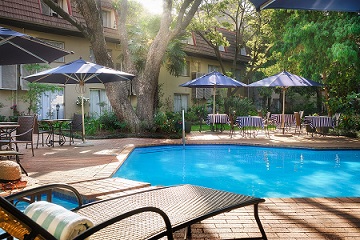 Starting in September 2020, 156 of the Balalaika's rooms were refurbished to include smart TVs and updated WiFi. This was followed by a comprehensive refurbishment of the old "Colony Restaurant", which has been rebranded and is now known as The Conservatory. The old Crown Court Lounge received its upgrade in December 2020, and has reopened as the new airline and VIP lounge, "Destination", as of 1 April 2021.
Hotel conference room floors and the hotel gym also received upgrades, and the gym is now fully equipped with new steam rooms. The Lords Bar has been redecorated and the Oval rebranded as "Coffee on Twenty". All suites now offer private lounge areas and spa baths and have recently been further modernised with granite business desk areas that have full internet access. The banqueting and conference facilities do not detract from the country atmosphere of the hotel and are situated out of sight on the first floor.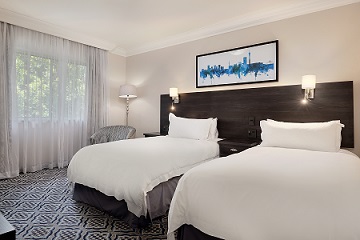 These and a series of other visual and practical upgrades will make for a warmer, more sophisticated environment for weary travellers and a quiet day or night-time escape for guests who stop by for a meal or a drink.
Despite the new developments, the Balalaika retains the spirit of tradition and charming character that it is renowned for. Its proximity to the Johannesburg Stock Exchange and many of South Africa's top companies notwithstanding, the old-time personality of the Balalaika remains very much intact.
In keeping with its timeless reputation, the Balalaika offers a little bit of country in the heart of Sandton and guests are invited to enjoy a brand new upgraded Balalaika experience, that will be just as memorable as it always was in eras gone by.
For more information or bookings, visit https://www.marriott.com/hotels/travel/jnbba-protea-hotel-johannesburg-balalaika-sandton/ or call +27 11 322 5000.