Dedicated pointsmen in Sandton improve traffic flow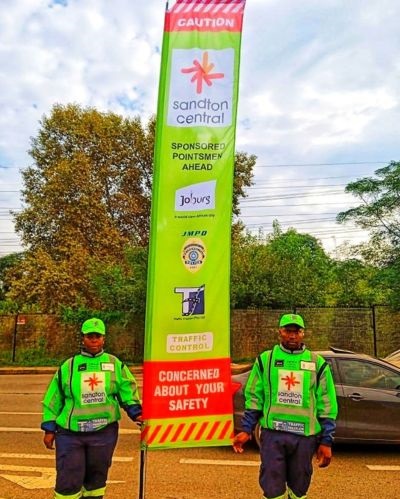 The Sandton Central Management District has expressed its gratitude to the committed Pointsmen and women stationed at Sandton Central's busiest intersections, as part of the Traffic Free Flow (TFF) initiative. Sandton Central is a proud partner of the initiative through its sponsorship of a unit to assist traffic management at critical intersections in the precinct during a power outage or when traffic lights are out of order.
Not only does Sandton Central's partnership with the TFF initiative ease traffic congestion but also positively impacts the community by creating employment opportunities and ensuring the safety of motorists, passengers, and pedestrians.
"We are incredibly proud of this partnership and the pointsmen and women for their dedication and the significant impact they have on our community. Their hard work saves motorists countless hours on the road, and their presence contributes to the overall safety in Sandton Central," says Elaine Jack, District Improvement Manager of Sandton Central Management District.
Sandton Central's partnership and official sponsorship of a dedicated TFF unit kicked off on 1 March 2023. The broader Pointsmen Project has since 2005 created job opportunities for over 280 youth matriculants from previously disadvantaged communities. Two such dedicated Pointsmen, Simphiwe Hlongwane and Phakamani Mgaga, have been instrumental in keeping traffic flowing smoothly in Sandton Central.
Simphiwe, a mother of two from Alexandra, is passionate about the safety and security of everyone on the road. She appreciates the positive feedback and gratitude she receives from motorists. Phakamani, also from Alexandra, joined the Traffic Freeflow Project in 2016 and feels a strong sense of belonging within the TFF family. When not busy with his 7-year-old, Phakamani enjoys the active and dynamic nature of his work.
The Sandton Central Management District applauds the hard work and dedication of Simphiwe, Phakamani, and all the pointsmen and women who contribute to the betterment of Sandton Central and its community. Jack encourages motorists to show their appreciation too. "Next time you see one of our dedicated pointsmen or women, give them a friendly wave. It's a small gesture that goes a long way in acknowledging their efforts and brightening their day," she says.