Winter classical music lunch hour concert line-up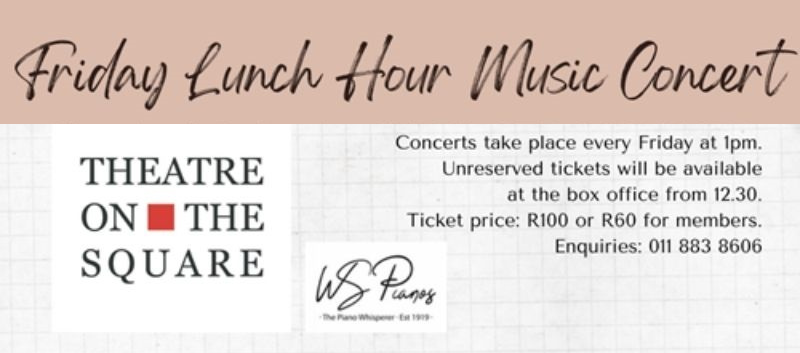 Theatre on the Square's diverse classical music concert line-up for autumn and winter 2022 includes some non-classical surprises and other musical genres in a programme of concerts featuring some of South Africa's most celebrated musicians.
Concert line up: 
13 May – An afternoon with the popular crooner JACQUES LAGESSE.
Expect a variety of beautiful ballads, Latin and Jazz Standards, and a few fun renditions of familiar songs to warm up our winter BLUES. 
20 May – Father and daughter singing duo, ADRIAN and EMMA-JEAN GALLIARD.
They recently rose to fame after videos of them singing The Prayer & Time to Say Goodbye went viral. They continue to entertain fans across the country & the world with live and virtual concerts comprising of well-known classical and pop music covers.
27 May – THE ZIZA MUFTIC TRIO with ZIZA MUFTIC on vocals and piano, GRAEME SACKS on guitar and CONCORD NKABINDE on the electric bass. The audience can expect a programme of original works as well as creative covers of familiar standards and folk melodies.
3 June – Solo Marimba recital with international performer, MAGDALENA DE VRIES
10 June – IT TAKES TWO, a clarinet and piano duo, MORNE VAN HEERDEN and SONJA VAN ZYL They will be playing works by Gershwin, Piazzola Tangos, Hungarian Dances by Kovak and Jewish Dances.
17 June – Marimba and piano recital with MAGDALENA DE VRIES and JANNIE LE ROUX.
24 June – SONJA VAN ZYL (piano) and DR JEAN DU PLESSIS (vocal) will perform works by Tchaikovsky, Schumann, Mahler and Strauss Lieder
1 July – THE WITS TRIO, featuring the renowned ZANTA HOFMEYR (violin),
SUSAN MOUTON (cello) and MALCOLM NAY (piano)
8 July - SHADES OF BROADWAY with special guest performer, GREG PETTIGREW - a one-man tribute to the Broadway greats with songs from musicals such as Jesus Christ Superstar, Evita, Joseph and Cabaret
15 July – ABBA TRIBUTE starring COLE VAN DAIS and her ensemble
22 July – CARNIVAL OF KEYS - An exhilarating concert of piano duets and songs featuring pianists LAURO PAUNA and EUGENE JOUBERT with a repertoire for 4 hands, with baritone, CHRIS VALE
and soprano, MARILIZE HATTINGH
29 July – Piano recital with LIZELLE LE ROUX
All concerts take place on Friday afternoon at 1pm. Tickets are available an hour before at the Theatre box office. Seats are unreserved so it's best to arrive early. Remember to take your vaccination documents and wear your mask at all times.
Tickets are R100 for non-members and R60 for members.
Should you are interested in becoming a Theatre Member please email Daphne Kuhn on [email protected]
For any further info contact Daphne Kuhn directly on 083 3774969 or on [email protected]