Inspiring ideas for spring celebrations
As the cold weather slowly starts melting away, Inspire Rentals is getting ready to celebrate spring. Is there any better way to celebrate warmer, sunnier, more colourful weather than with an outdoor event? They think not, so have put together their take on a beautifully laid out spring table – 3 different ways of course, because they love options!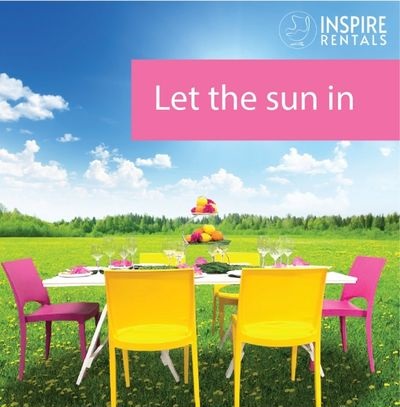 Let the sun in – with some colour of course!
After the dry, dull winter, we're ready to breathe some life back into things with a splash of colour! This type of table setting is perfect for a morning brunch with the girls or even a twist on a high tea in the afternoon. By accessorising a clear White Melville Dining Table with some brightly coloured Stella Café Chairs, fresh fruit, and flowers, your arrangement will instantly be taken up a notch in fun and freshness. The brighter the colours, the more exciting the table in this case!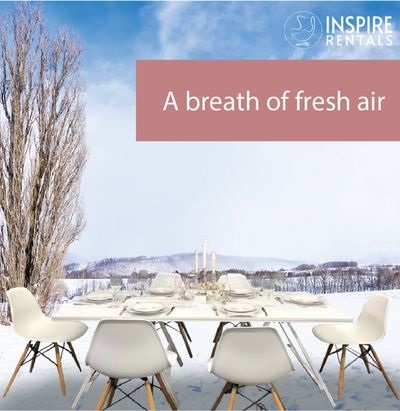 A breath of fresh air
Breathe in the fresh spring air with a late afternoon table setting that'll help you set a romantic scene. Perfect for an engagement party or anniversary celebration, this spring table setting will help convey a feeling of love and warmth at your event. As the sun sets, your White Melville Dining Table will be brought to life with some lightly burning candles that create ambience and a subtle scent, as well as some small, soft flowers and greenery that add an extra element of freshness to the setting. Adding a touch of faux-fur with scatter cushions will bring an extra element of glam and luxury to your setting without being too overdone. It's all about the comfort and love with this option!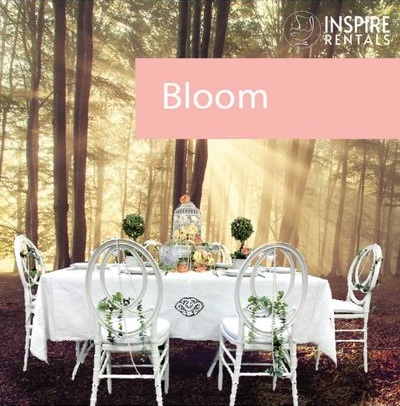 Bloom
If you're ready to fully embrace all that spring is about, this is the table setting option for you! With beautiful, crisp White Dior Dining Chairs that emphasize a feeling of freshness in combination with a White Melville Dining Table, it's easy to accessorise this blank canvas to feel more "spring" instantly. We chose to drape some flowers and greenery across the backs of the chairs, as well as create a beautiful flowery centrepiece for some extra colour, joy and fragrance on this table setting.
Hope you enjoy your spring occasion as much as the team at Inspire Rentals enjoyed putting these stunning table settings together for your inspiration! If you need more ideas, browse the furniture on www.inspirefurniture.co.za