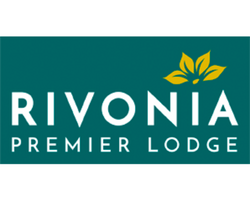 Rivonia Premier Lodge
Book Now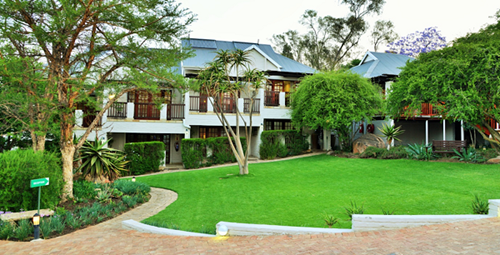 Contact    Filltah Mawere
Position   Manager – Front Office
Address    3 River Road (Edenburg)  Rivonia  Sandton  Johannesburg
Telephone   +27 11 803 2790
Mobile   +27 82 496 5568
Email   [email protected]
From a fledgling 2-roomed B&B, conceived over shared pizza and wine in 1995, Rivonia Premier Lodge (previously known as Rivonia Bed & Breakfast) has, over a period of 25 years, grown into an establishment with 50 bespoke rooms situated on a large garden estate.
In 2019 this award-winning establishment was named the Best International Hotel in the 20-50 room category at the Boutique Guest Experience Awards in London. In 2018 the lodge won the Lilizela Tourism Award in the B&B 4-star category .
Family run, the lodge was started by Jill and Gerard Marais who are hands-on owners; a couple who are totally passionate about what they do. A loyal, competent team that has grown with the business is one of the things that make Rivonia Premier Lodge what it is today, says Jill. "We firmly believe that being owner-run is the secret to our success," she adds.
How did the B&B come into being? Back in 1995, with the Rugby World Cup looming, Jill and her neighbour decided that they would use the sport event to earn pocket money. With no hospitality experience, they converted three rooms on the two properties into guest rooms. While the Rugby World Cup didn't provide them with the hoped-for guests, it did lay the groundwork for expansion in 1998, when Gerard and Jill built an additional six rooms on the 6000 sq m of land they owned in Rivonia.
The lodge grew like Topsy. Year by year the couple added rooms under Gerard's watchful eye. With his engineering background, every detail had to be perfect.
2010 was a momentous year. The lodge was fully booked by SKY News, Germany, whose film crew were in SA to cover the Soccer World Cup.
Today Rivonia Premier Lodge receives 5-star ratings on TripAdvisor on a regular basis.  Their breakfasts are legendary. Guests enjoy the tranquillity of the rambling gardens as well as the prolific bird life.
Located in Rivonia, Sandton, the lodge is situated 2km from the historical, internationally known Liliesleaf farm. Guests have easy access to major highways, to retail outlets like Sandton City, Nelson Mandela Square, the Mall of Africa, local hospitals, the Sandton Convention Centre, Gallagher Estate, Montecasino and the Rivonia Barnyard Theatre.
With the quality of its accommodation, its superb service and its excellent location, Rivonia Premier Lodge has become a sought after 'home from home' for leisure and business travellers alike. 
Rooms   50